When T-Rex restaurant opened in late 2008, it joined numerous Disney themed restaurants on property.

Owned by the same company that runs the Rainforest Café restaurants, T-Rex has become quite popular.

Disney fans looking for a place to dine, shop, and explore should make dino tracks over to Downtown Disney's Marketplace district.
T-Rex offers something for every member of your family.

Whether you are traveling with kids who enjoy the various dinosaurs inside and out, or adults looking for a great meal, there is something for everyone here.

Plan on making a dining reservation in advance if possible, or prepare to wait a long time for this popular restaurant.

The wait is worth it, though!

While you are waiting to dine, you can shop in the nearby gift shop.

One of the cool options at the gift shop is the "Build-a-Dino" workshop.
Similar to the "Build-A-Bear" merchandise, you can build and take home your own stuffed dinosaur!
Once inside the restaurant, there are lots of sights and sounds to immerse yourself in.

At the entrance, a massive Tyrannosaurus Rex greets you with a very big smile.
Inside the restaurant, there are several themed prehistoric areas, each with plenty of life-size audio-animatronic dinosaurs on either side of you and flying dinosaurs and prehistoric sea creatures above you. Two of my favorite prehistoric creatures are the wooly mammoth and her two babies.

Covered in snow, they are not intimidating to children and look as huggable as the family pet.
On our last visit in June, we were seated next to the Triceratops baby.

It was a get-away weekend for my mother and I, who both voted hands down to enjoy one of our new favorite restaurants.

After reviewing the menu, I chose the "Fire-roasted Rotisserie Chicken" and my mother chose the "Mammoth Mushroom Ravioli".
Shortly after we ordered, the meteor experience began.

If you have children who are frightened by noises or the darkness, I would recommend warning them in advance or skipping the restaurant all together.

This experience is similar to the Rainforest Café's rain experience.

It occurs about every 15 minutes and definitely enhances the atmosphere.

Most of the prehistoric animals come to life and make a lot of noise, drowning out the talking of their human guests.

The experience doesn't last long and the restaurant eventually returns to normal.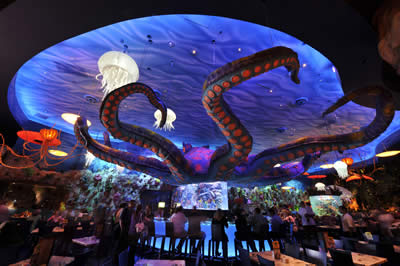 When the food arrived, we remembered why this was one of our favorite meals!

My chicken was flavorsome and moist – something that not all restaurants can achieve.

Yet, what makes the meal the best are the garlic mashed potatoes (which are awesome!) and the scrumptious cinnamon apples!

My mother also enjoyed her mushroom ravioli, which was plentifully filled with mushrooms in a delicious lobster cream sauce.
Overall, I would highly recommend this restaurant for your next trip.

Unfortunately, it is one of the few restaurants not covered on the Disney Dining Plan – but trust me, it's worth the extra expense!

Your Disney trip won't be complete without taking a step into the past and visiting this prehistoric hot spot!