So, you're planning your first trip to Walt Disney World? Congratulations! You're about to go on your most exciting trip ever! But, you'll need to know a few things before you go…some things that can make your Disney Vacation so much more enjoyable.
First-timers can get confused very easily. There is so much information available, it's very easy to get overwhelmed. There are so many things to consider when planning your first trip- when to go, for how long, where to stay, etc… There are many special events you'll want to consider (Mickey's Not So Scary Halloween Party, Mickey's Very Merry Christmas Party, Epcot Food & Wine Festival and more!) throughout the year. Your personal taste will determine what time of year is best for your visit.
Know your budget and have a plan. Be prepared for expensive water and pretzels. Have an idea of where you'd like to eat and how many meals you'll need for your party (Your travel agent can book those meals right away to ensure availability). Also, realize that even though you say you won't buy many souvenirs, it will be hard to pass up that adorable stuffed animal or Mickey t-shirt. Prepare yourself for Disney prices before you visit.
Speaking of prices, simple items like sunscreen, batteries, diapers, etc. are available at the resorts, but you'll pay a premium price for them. If you visit during the spring or summer, remember that you'll be in Florida. It's called "The Sunshine State" for a reason! Remember to pack being conscious of the weather, and you'll avoid having to buy them once you arrive. While packing, consider taking a backpack or small bag that will fit items like an extra bottle of water, sunscreen, wallet, etc. However, your bag will be inspected at the entrance of every theme park. Choose a backpack or diaper bag that is easy to look through and doesn't have too many compartments. Yes, they will look through every single zippered section!
Staying on Disney property will ensure that you're able to take advantage of the free transportation to and from all theme parks, water parks and Downtown Disney, as well as the Disney Dining Plan. If you stay off property, make sure that they have a good shuttle system. One thing you will learn is that time is precious and you don't want to spend most of your time on buses, en route to the action!
The weather can play a huge role in deciding when to visit. If you despise the heat, the summer would probably not be ideal for you. Other people don't mind the heat and like the business of the parks. A good tip for first time visitors (and for veterans as well) is to bring ponchos! Most rides stay open while it's raining and people will be looking for shelter. But not you! Put on a poncho from the Dollar Store and you won't even notice! You can still enjoy the parks in the rain. In fact, the parks were built with Florida weather in mind. There is plenty of overhead shelter so leaving the park isn't necessary…and you could even end up walking right onto some rides with no waiting!
Know the park hours and parade/show times. Your travel agent will be able to provide this for you as well as the best places to view parades and what special events are going on in the parks. Being prepared will eliminate last minute scrambling for a spot. Each park has what they call Extra Magic Hours. This allows guests staying at a WDW Resort to enter a park 1 hour early or stay 3 hours after closing on certain days. It pays for you to know which days are EMH days before you arrive. This way, you can avoid a crowd or that park for the day, if you choose. Or you can take advantage of the extra hours and enjoy more time in the parks.
Develop a strategy on how you will approach each park. To say the parks are huge is an understatement. They can be pretty overwhelming. Wear comfortable shoes! Check out the maps ahead of time and focus on one section at a time. Going back and forth between sections of the park is not only time consuming but tiring. Familiarize yourself with the Fast Pass system. This allows you to come back to a ride at a certain time and move to the front of the line…a huge time saver!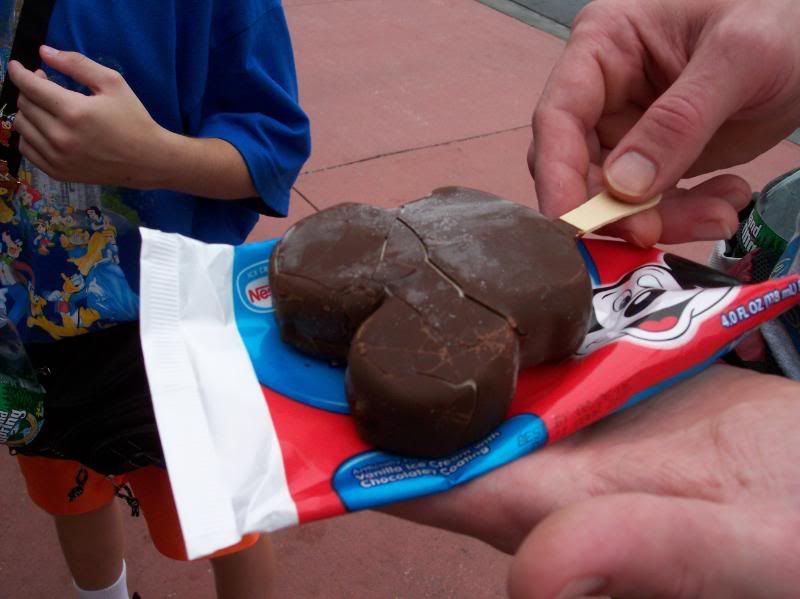 You will need time to rest and take a break from this enormous World. When the urge strikes you, sit down. There are benches everywhere. If you have young children, even if they've been out of your baby stroller for a while, consider renting a stroller inside each park. These strollers are hard molded plastic, and even children who are 5 or 6 (sometimes older) could benefit from a ride in the stroller. (And, it will probably save a tantrum or two when they tire out.) Use your break time to enjoy a Mickey shaped ice cream or a turkey leg. Kids and adults alike will need some rest time. Taking advantage of your resort's amazing pools or taking a power nap will recharge you for some night time fun!
Since you've never been to Disney before, you may not know where to expect character sightings. Even if you have been, they can still surprise you anywhere. If you have your heart set on a photo with the characters it would be smart to have your camera ready at all times. There are also Character Meet and Greet locations in each park. These will be noted on your park maps. Encounters can be quick, and if you aren't prepared you might miss it altogether. Cameras and autograph books should be readily available…not buried in your backpack.
The most important tip I could give would be to just soak it all in and have fun! I could write a book about all of the ways to enjoy your visit to Walt Disney World, but so many people already have! I'll bet you already bought a Disney guide book (or 2, or 3). If not, I strongly suggest doing so. If not, you can always contact your WDWTravels agent with questions. Remember, at WDWTravels, we will customize a care package for you, with all the information you'll need to have the most magical vacation ever. We are happy to help!
Have a MAGICAL first trip!