Have you ever gone to Disney World and thought to yourself, "Wow! I remember riding Dumbo as a kid and it still looks as great today as it did then." How does Disney do it? How do they keep rides current and looking so new? Many of us take for granted the Magic that we never see at Disney World. Yes, lots of Disney's magic take place behind the scenes, when you are sleeping Tink and her helpers come out and sprinkle some pixie dust throughout the parks.
On occasion however, various attractions throughout Disney do need to close temporarily for refurbishments. While Disney tries very hard to keep as much of the maintenance magic behind the scenes, this is a necessary part of keeping the magic anew and safe for all Disney guests to enjoy. On other occasions, attractions close to make way for new and improved attractions, and these things do take time. It is always best check prior to your trip to see if there will be any refurbishments going on during your stay. The last thing you want is your prince or princess making a bee line for a much anticipated ride or show only to find it being refurbished during your stay. Disney is always looking to make your experience more magical, and this year is no exception.
With two new restaurants scheduled to open in Epcot's World Showcase look to find various closures in both the Mexican Pavillion and the Italian pavillion. The Mexican pavillion will be under refurbishment to make way for a fantastic 400-seat, water-side restaurant scheduled to open in the Fall of 2010, while the pavillion in Italy will be making way for a 300-seat pizzeria inspired by the famous pizzerias of Southern Italy. Did someone say YUM??? Have any of you been missing an old favorite by the name of Captain EO? For those of you who remember this show featuring Michael Jackson and his music, it originally ran from 1986-1994. Well, it is returning!
Visit Epcot's future world and you will find a refurbishment of the old Honey I Shrunk the Audience theater to make way for Captain EO's return. This will be a do-not-miss attraction for all guests! For all of the Star Wars fans, Disney has a great surprise in store for it's wildly popular Star Tours attraction. Scheduled for a massive refurb to begin this September, you can look forward to a state of the art attraction to reopen sometime in 2011.
When Star Tours reopens, look for some major additions, including an all new 3-D experience that will include additions from the more recent Star Wars Movies. The Force will be with this one, that is for sure! During your stay at a fabulous Disney resort you may find that they, too do need updating from time to time. You can currently expect to see a brand new feature pool being built at Disney's Saratoga Springs.
This resort is being updated with a massive 3300sf zero depth entry pool complete with a large slide and massive pool deck scheduled to be completed by Mid-2011. Don't worry if you are scheduled to be staying here, you can still relax at the current feature pool or another quiet pool during your stay. Now, we can't talk about resort refurbishments without mentioning a little project called The Art of Animation!
The Art of Animation is Disney's newest resort scheduled to be built by Pop Century as a larger than life themed value resort with nearly 2000 rooms, over half of them will be made into the ever popular family suites.
With the popularity of Disney's All Star Music family suites, this is a wonderful addition to the value resorts, offering larger families a great alternative to booking two rooms. This resort will feature art from these popular Disney movies: The Little Mermaid, Finding Nemo, Cars, and The Lion King.
Finally, I suppose we should mention another little refurbishment scheduled for the Magic Kingdom itslef. You may have heard about this expansion when Disney held a press conference to announce it. Now if Disney is holding a press conference just to announce it, you know that I am again using the word "little" lightly! That's right, Disney has announced what it is calling the biggest overhaul in it's themepark history.
The massive refurbishment of Fantasyland has begun and is scheduled to continue through 2013! Don't fret; this refurbishment will be taking part in sections, and most of your main Fantasyland attractions will remain open during this project. (Note however, a rehab is scheduled for It's a Small World from Aug 1st-Oct 22nd.) This massive project is going to include various lands themed around most of your favorite princesses, including a new Little Mermaid Ride, Beast's castle, many new restaurants and attractions, and of course even Disney's wildly popular villains will have a place here.
Dumbo will find himself doubling in size in the new "Circus Grounds", taking the space currently occupied by Mickey's Toontown Fair. You will find your favorite fairies joining the party in the new Pixie Hollow and much much more. Disney is always working to make it's guests experience new and exciting ,and rehabs and refurbishments are just part of the necessity.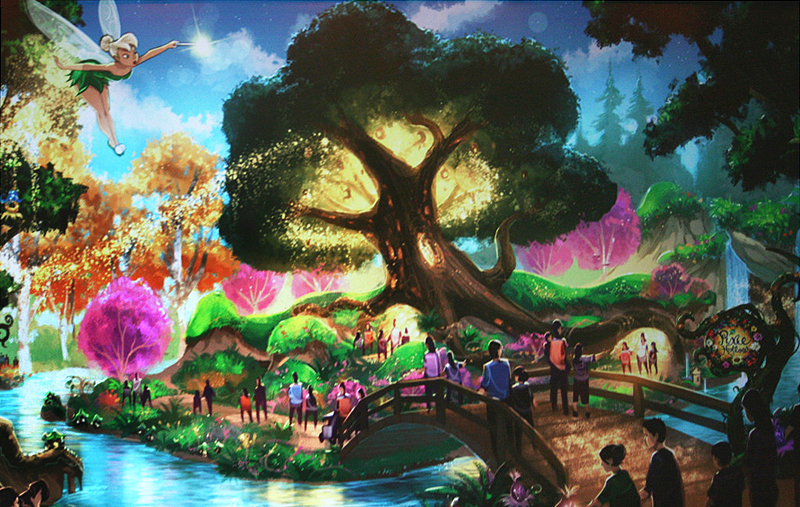 So, the next time you visit Disney and wonder, "Wow, how do they do that? Or, when did they add that?" Remember while magic and pixie dust play a large part all that you see, it's not without lots of hard work and imagineering, that Disney keeps Walt's dream alive for us to enjoy year after year!